Black beluga lentils are aptly named.
Not only do the tiny jet-black lentils resemble beluga caviar in appearance, they also possess a warm, nutty flavor that is not unlike that of their namesake.
Black beluga lentils, like French Green Lentils (lentilles du Puys), differ from other "garden variety" lentils in several ways.  Black beluga lentils retain their lens-like shape and firm pleasant texture when cooked, making them a good choice for salads. They're much smaller, too – only about 1/8th-inch or so in diameter.  Black beluga lentils cook very quickly, requiring only about 15 – 20 minutes to cook to a pleasant 'al dente' consistency.
The natural deep ebony color of black beluga lentils fades to an attractive rich nut-brown hue during the cooking process.  Their mild, but distinctive "legume" flavor melds beautifully with vinaigrettes and marinades, and accommodates itself well to soups and stews too.
It's hard to imagine any food that is more versatile, flavorful and nutritious than the beautiful, delicious Black Beluga Lentil.
Ingredients:
1 cup black beluga lentils
1 medium shallot, diced
3 Tbsp extra virgin olive oil
1 Tbsp lemon juice
1 tsp white wine vinegar
1 tsp sugar
1 tsp coarse sea salt
black pepper to taste
2 Tbsp capers
2 Tbsp diced roasted red pepper
1 Tbsp chopped flat leaf parsley
1 Tbsp sliced chives, plus a bit for garnish
2 oz fresh goat cheese
fresh salad greens
Preparation:
Rinse the lentils and place them in a pot of 4 cups of boiling water. Simmer for 5 minutes and add the shallots. Simmer for an additonal 10 minutes or until tender, but with a little resistance "to the tooth". Drain immediately through a fine strainer and rinse briefly with cool water.  Drain again, set aside and allow to cool.
In a large bowl, combine the cooled lentils with the olive oil, lemon juice, vinegar, sugar, salt and pepper.  Add the capers, roasted pepper, parsley and chives and toss briefly.
Arrange a small amount of salad greens on each plate and mound about a 1/4 cup of the lentil mixture on top of the greens.  Crumble a little of the goat cheese over the lentils.  Drizzle with a little additional olive oil and sprinkle with a few sliced chives.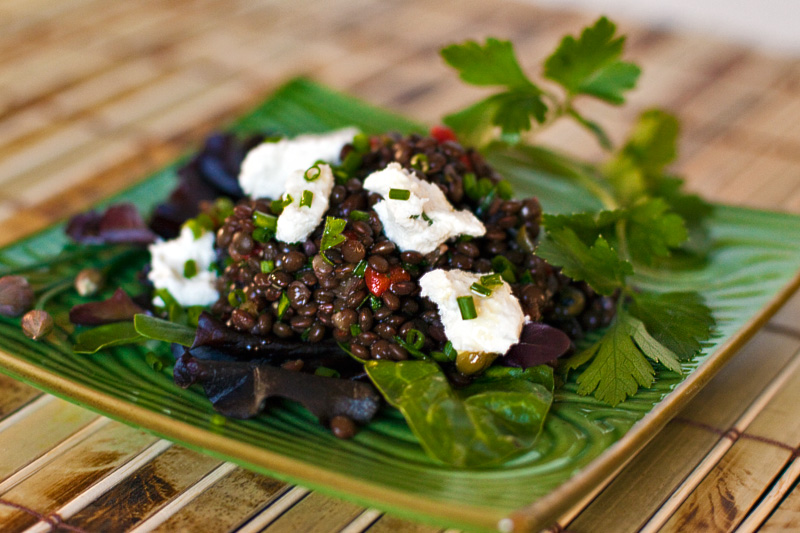 Many of the ingredients used in this recipe, and other recipes on the Earthy Delights Blog, can be purchased online at our retail website, Earthy.com. We welcome you to visit the Earthy.com website to view our extensive selection of hard-to-find ingredients and our complete Recipe Collection of over 500 tested recipes.
For even more news, information and recipes, sign up for the free Earthy Delights email newsletter.